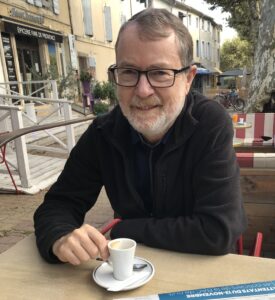 I grew up in Alameda, an island in the San Francisco Bay. I got my first taste of overseas life while studying in England during college, and later backpacked around the world for six months.
My wife Val and I fell for Europe during a five-year expat assignment in Switzerland, where we lived in a village with more cows than people. It was during that time that we first visited Provence, and it was love at first sight. We came back every chance we got, and in 2008 we began a part-time life here. Now we split our time between Provence and California.
It was challenging at first because our French wasn't very good (mine could generously be described as laughable.) But after hard work and plenty of mistakes, we can now speak the language reasonably well and have a wonderful circle of French friends.
Over the years, we've traveled all over Provence, visiting sights both well-known and obscure. So, while we've visited the famous lavender fields and Roman arenas, we've also seen Provence's medieval Plague Wall and learned about the region's rich Jewish history.
Our friends here have generously introduced us to regional specialties and taught us local expressions (some more polite than others.) They've taken us to their favorite restaurants and shown us hidden picnic spots, and together we've tasted more wine than I care to admit.
To keep our California friends up to date, I started a funny travel blog, which somehow turned into a book, which miraculously became a best-seller. So, I wrote another one, and now I've written a guidebook to Provence, which I hope will help you enjoy this wonderful corner of France.