What to see and do with a week in Provence? Here is a 7-day itinerary that covers a mix of historical sites, hilltop villages, and local markets.
You can stay in one spot and make day trips to each of these towns. A good choice is St-Rémy-de-Provence, a delightful, medium-sized town.  Everything here is within an hour drive of St.-Rémy.
Markets days are listed so you can coordinate your visit with the market day if you would like.
Markets of Provence, by Marjorie R. Williams is an excellent guide, including maps and details on some of the best markets of the region.
Day 1: Arles
See the Arènes  (Roman amphitheater) and Saint-Trophime church and cloister.  Walk in Van Gogh's footsteps and see the spots he painted during his stay here.   Place du Forum is a calm and lovely spot for a lunch or coffee. Slightly outside the center of town, the Antiquities museum has a 100 foot long Roman barge – recently raised from the Rhone River.  Market Days: Wednesday and Saturday
Day 2: Les Baux-de-Provence and Mausanne-les-Alpilles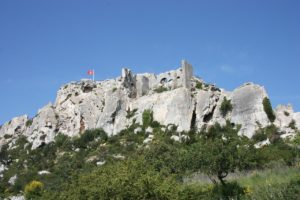 Visit the medieval town, built on top of a huge rock in Les Baux. 
Just below is Carrières de Lumières – a magical art and music show in an abandoned quarry. It is hard to describe, but not to be missed.
Nearby Maussane has a lovely square and several good restaurants for lunch or coffee.
Maussane is known for some of the best olive oil in the world – Jean-Marie Cornille (in town) is a good option.  For Provencal food visit the Jean Martin shop in town.  Mas Sainte Berthe and Mas de la Dame are two excellent wineries nearby, offering well-organized tasting rooms with English-speaking staff.   Market Days: Maussane – Thursday
Day 3: St.-Rémy-de-Provence
See Glanum and the Antiques – spectacular Roman sites just outside of town.  Nearby, you can visit Saint Paul de Mausole, the hospital where Van Gogh spent a year and also follow a Van Gogh walk to see the spots he painted while there.
The Wednesday market offers a nice mix of food and souvenir items.   And there are some charming shops and good restaurants along the ring road and in the small, interior alleys of the town.   Market Day – Wednesday, small market also on Saturday
Day 4: Roussillon and Gordes (in the Luberon)
Walk through the ochre quarry just outside of Roussillon (The Sentier des Ochres) in this colorful, hilltop village.
Gordes, one of the most beautiful villages of France, is just a few miles away. Don't miss the viewing/photo spot on the D15 as you drive into town.
 Just outside of Gordes are:
The Village des Bories – small domed-shaped structures built with stones, but no mortar.
The Abbey of Senanque, a 12th    century Cistercian monastery. It is a simple but beautiful building, in a peaceful spot, and is still in use today.  Market days: Tuesday – Gordes, Friday – Roussillon
Day 5: Avignon
One of the largest cities in the region, it includes a historical center and is surrounded by massive stone walls.
Tour the Palais des Papes (former palace of the Pope in the 14th century).  The Place de l'Horloge, across from the town hall, is a nice square and people-watching spot.  Market Days –  Everyday!
Day 6: Uzès
This medieval town is known for its many towers. Pick up a copy of the self-guided walking tour from the tourist office.  One of our favorite squares in France is the Place aux Herbes. It is ringed by cafés and restaurants with a fountain in the center and shaded by plane trees. It's a good place for a meal, though on Saturday morning it is packed with the market.
Nearby is the Pont du Gard, an ancient Roman aqueduct. It is a spectacular site and the museum there provides a nice history on its contruction and use.
If you have the time and energy, consider taking a canoe or kayak down the Gard river and under the Pont du Gard. The trips start from Collias, just down the road.  Market day: Saturday
Day 7: L'Isle-sur-la-Sorgue
Home to one of the France's largest markets including antiques, along with the more usual fares.  The market is on Sunday morning and gets crowded quickly; arriving early helps.
The town is ringed by the Sorgue river with nice views from the cafés and restaurants that border it.
Nearby is the town of Fontaine-de-Vaucluse – where you can see the source of the river that seems to burst forth from the ground, as an underground river comes to the surface here.  Another canoe or kayak opportunity is to take the easy "float" from Fontaine-de-Vaucluse to L'Isle-sur-la-Sorgue.