Saint-Rémy-de-Provence
The beautiful and delicious desserts displayed out front will attract you.  Equally good are the starters and main courses.  Reasonably priced, and there is a nice little terrace in the back.
Charming bistro with outdoor dining.  Delicious food from a changing list of seasonal selections.  Also a delicious and good value 3-course menu.
Nice spot for breakfast (coffee and tartine), reading the paper and people watching.   Also serves lunch and dinner. Relatively small menu but high quality.
Just outside the ring road and tucked in a charming and quiet corner.  Unusual, delicious and copius salads.  Tapas also served in the evenings.
Delicious food made from seasonal, fresh ingredients.  Reasonably priced.
Where to go for Moroccan cuisine.  Tasty tagines and a nice outdoor terrace.
A fine-dining spot.  Fresh ingredients, well prepared.  Portions are on the smaller side.  Peaceful terrace.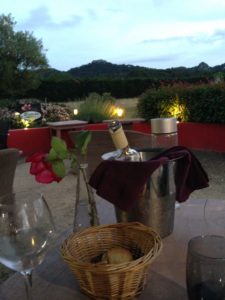 Located in the surrounding countryside, offers one of the best outdoor terraces with a view on the Alpilles.  Excellent food with good value menus.
Maussane-les-Alpilles
Delicious mediterranean cuisine, prepared and served with care.  A delightful terrace for warm weather and a cozy room with a fireplace for cool days.
Tasty and creative food and excellent and friendly service.  Reasonably priced menus or a la carte.
Traditional cuisine, delicious food, kind and helpful service.  Outside tables in the square and a cozy dining room.
Elsewhere
Ansouis: La Cloiserie (Michelin one star)
Fresh ingredients and creative preparation.  Definitely a splurge kind of place.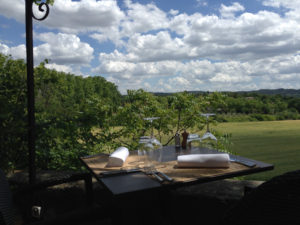 For a special event!  One "menu" with 7 dishes or 13.  Each are small plates and are a work of art, not to mention healthy and delicious.  Chef Jean-Luc Rabanel uses a lot of vegetables and brings out the essence of each ingredient.  Each meal is a memorable experience.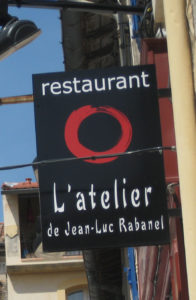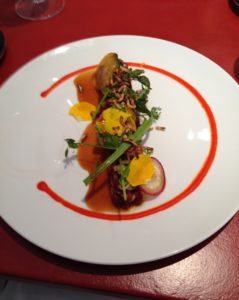 The sister restaurant to L'atelier and located next door.  Excellent food, a more traditional menu and more moderate price point.
Creative, Provençal cuisine served in a tree-shaded terrace or a comfortable dining room that feels like someone's home.
Very good, Provençal food.  Good value lunch menu.  Very friendly service.
Traditional and well prepared dishes.  Good value menu.  Located in a small village near the home of Frederic Mistral.