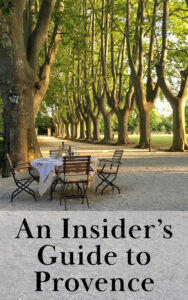 Keith and Val Van Sickle are long-time residents of Provence, splitting their time between California and the charming village of St-Rémy-de-Provence. In this unique guidebook, Keith shares their favorite things to see and do, both the well-known and the insider secrets.
In this book you'll find:
Coverage of Aix-en-Provence, Arles, Avignon, the Luberon Valley, Nîmes, St-Rémy-de-Provence, and more.
A suggested one-week travel itinerary, plus a list of Keith and Val's ten favorite things to do in Provence.
Restaurants with fabulous food, plus Keith's don't-miss local specialties. If you are vegan, vegetarian, or gluten-intolerant, you'll find tips on how to find the foods that work for you.
Wineries with excellent wines, friendly tasting rooms, and English-speaking staff.
A list of Provence's tempting outdoor markets.
The best Roman and pre-Roman ruins.
How to explore Provence's rich Jewish history.
Hiking trails with magnificent views, biking routes that everyone can enjoy, plus hidden picnic spots in the beautiful countryside.
Cultural advice, tips on daily living, funny local expressions, and more!
If you are looking for a guidebook like no other, An Insider's Guide to Provence will help you make the most of this glorious corner of France.  Click here to buy
Can a two-career couple really pick up stakes and move to Provence?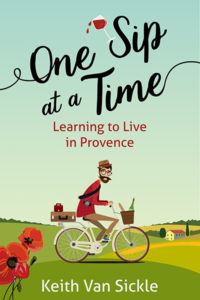 Keith and Val had a dream – to live in Provence, the land of brilliant sunlight, charming hilltop villages and the deep blue waters of the Mediterranean.
But there were two problems: they weren't French speakers and they had full-time jobs. So they came up with a plan…
Follow their adventures (and misadventures) as they quit their jobs, become consultants and split their time between two countries. Laugh along as they build a life in Provence, slowly mastering a new language and making friends with the locals over long meals and just a bit too much wine.
This light and breezy memoir is full of wry observations on France, like the power of cheese to sway elections, the right and wrong ways for men to kiss each other, and the law requiring that blood donors must speak French.
If you've ever dreamed of changing gears and learning what joie de vivre is really all about, you won't want to miss this delightful book. Click here to buy
Can two Americans really become French?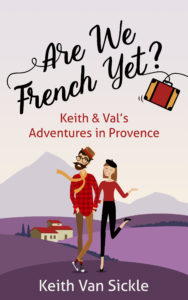 Val and Keith turned their lives upside down when they quit their jobs and began a part-time life in Provence. But they wondered: Can we fit in? And maybe become French ourselves?
Follow their adventures as they slowly unlock the mysteries of France…
– Is it true that French people are like coconuts?
– Can you learn to argue like a French person?
– What books have changed French lives?
– Most important of all, how do you keep your soup from exploding?
There's more to becoming French than just learning the language. If you want the inside scoop on la belle France, read this book!  Click here to buy