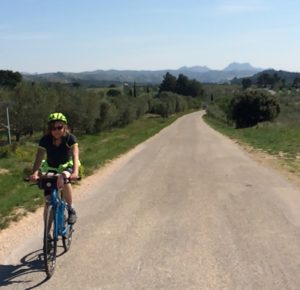 Val and I are back in France for the spring, in St-Rémy-de-Provence.
One of the things we enjoy most about this area is the biking. St-Rémy is right next to the Alpilles, a low mountain range with rocky outcroppings. Well, to call the Alpilles "mountains" is a bit of a stretch, they are more like big hills. But they rise up dramatically and look taller than they actually are, kind of like the Scottish Highlands.
There are lots of quiet roads over and through the Alpilles that are perfect for biking. One of our favorite routes is from Maussane-les-Alpilles to Eygalières and back, a 20-mile round trip that takes us over the Alpilles twice.
The ascents are gentle, nothing that low gears can't handle. Or occasionally walking the bike. And there are always electric bikes for those who aren't feeling too energetic.
It's a beautiful ride that takes us past olive groves and vineyards and the occasional flock of sheep. We usually stop partway through the ride for a nice lunch because, well, why not? One has to restore one's strength, after all.   And what is more delicious than lunch in Provence?
Directions: If you are starting in Maussane, take the D17 a short ways out of town towards Mouriès, and then take a left turn onto the D5. You'll pass some stone barns (hard to miss the smell). If you continue straight, the D5 turns into the D78. You follow this until it intersects the D24, which is about the halfway point between Maussane and Eygalières. Turn left here, towards Eygalières, and follow the signs for Eygalières.
Yesterday we did half the ride, from Maussane out to the halfway point and back. This winter has been so rainy in California that we didn't ride as much as usual and aren't in good biking shape. Or at least that's our excuse.
Here are some more pictures from the ride. We'll go the rest of the way next time!