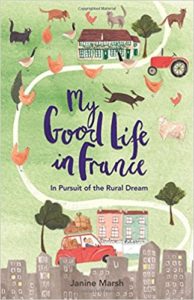 On a cold, wet day about ten years ago, Londoner Janine Marsh went with her husband and father on a day trip to France. They didn't have big plans – it was just a quick jaunt to have lunch and buy some wine.
But sometimes life has other plans, and she ended up not only buying wine but also…a house. How that happened is the beginning of Marsh's charming and funny memoir.
Nestled in a tiny town in France's Seven Valleys area, near Calais, the house was a bit of a fixer-upper. No, it was more than that – it was a total wreck. And as you can imagine. everything went wrong, including an overflowing septic tank that earned Marsh the nickname Madame Merde. As she says, you have to be "a bit mad" to buy a house like this.
For the next few years, Marsh and her husband visited the house on weekends, beginning the monumental task of making it livable. But this split life proved unsatisfactory and eventually the big question had to be faced: do we move to France? Marsh, who had worked for years to rise from secretary to bank vice president – with another promotion imminent – agonized over the decision.
The couple decided to seize the day, and off to France they went. The more they repaired the house, the more they discovered problems, but their energy and optimism eventually carried them through.
Not only do they build a comfortable home, they build a wonderful new life for themselves in France. Marsh does a brilliant job of sharing with us what makes life in the Seven Valleys so charming. This isn't Paris or Provence, but la France profonde, an area that tourists seldom visit.
We learn how neighbors help one another, like the time the Marshes nearly ran out of firewood in the middle of winter. With disaster looming, a neighbor showed up with his tractor, carrying several tons of firewood – and no payment expected.
We learn about the nearby town that is normally silent as a tomb, but that comes to life when Madame Magniez decides to bake some of her famous bread to sell. People see smoke coming out of her chimney, word spreads, and soon there is a traffic jam in the tiny downtown.
Marsh shares with us the local legends and the local celebrations. She describes the ins and outs of the French bureaucracy, French driving customs, and the proper way to kiss a person in greeting.   And she tells us about the food, one of the glories of France.
My favorite line in the book is when Marsh writes about the huge meals to celebrate Christmas and New Years. As she says, "At this time of year in France, you can quite easily eat yourself to a standstill."
If you've ever dreamed of discovering "the real France," you won't want to miss this delightful book.
Janine Marsh is the creator of The Good Life France, an excellent website with information on all things French.
You can buy the book at Amazon:
[amazon_link asins='1782437320′ template='ProductAd' store='ones06b2-20′ marketplace='US' link_id='bdc2ca5b-3263-11e7-a51f-a12bf0563794′]