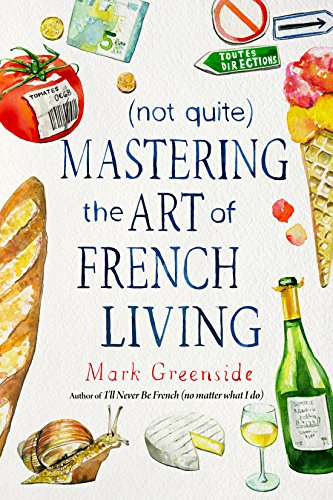 I've just finished a gem of a book and would like to share it with you. It's (Not Quite) Mastering the Art of French Living by Mark Greenside and it is funny as heck. I like to read a book before going to sleep but my wife wouldn't let me with this one because I kept laughing so hard I was shaking the bed.
Mark is an American who spends every summer in a house he bought in a tiny village in Brittany. Somehow, despite living part-time in France for decades, he has not managed to learn the language. This leads to inevitable mishaps, all of which he describes in a hilarious style. As he puts it, "If you're lucky, some of the things that happened to me will happen to you. If you're luckier, they won't."
We learn what happens when you accidentally end up in the middle of a combination pig roast / talent show with a busload of elderly French tourists. And what it is like to try and fail (yet again) to prepare a meal that satisfies your French neighbors. There are funny stories about shopping, banking, driving (including a car accident that turns out surprisingly well) and more. Mark has an engaging style that allows him to tell these and other stories with humor and humility.
As someone who lives part-time in France myself, I think that Mark has done an especially good job at describing the cultural differences between France and the United States. And I was touched when he talked about his French friends, people with whom he can barely have a conversation, yet who have become "people I care about and who care about me."
If you are looking for a book about France that is thoughtful, heartfelt and really, really funny, this is one you won't want to miss. Highly recommended.
Synopsis
Every year upon arriving in Plobien, the small Breton town where he spends his summers, American writer Mark Greenside picks back up where he left off with his faux pas–filled Francophile life. Mellowed and humbled, but not daunted (OK, slightly daunted), he faces imminent concerns: What does he cook for a French person? Who has the right-of-way when entering or exiting a roundabout? Where does he pay for a parking ticket? And most dauntingly of all, when can he touch the tomatoes?
Despite the two decades that have passed since Greenside's snap decision to buy a house in Brittany and begin a bi-continental life, the quirks of French living still manage to confound him. Continuing the journey begun in his 2009 memoir about beginning life in France, (Not Quite) Mastering the Art of French Living details Greenside's daily adventures in his adopted French home, where the simplest tasks are never straightforward but always end in a great story. Through some hits and lots of misses, he learns the rules of engagement, how he gets what he needs―which is not necessarily what he thinks he wants―and how to be grateful and thankful when (especially when) he fails, which is more often than he can believe.
Introducing the English-speaking world to the region of Brittany in the tradition of Peter Mayle's homage to Provence, Mark Greenside's first book, I'll Never Be French, continues to be among the bestselling books about the region today. Experienced Francophiles and armchair travelers alike will delight in this new chapter exploring the practical and philosophical questions of French life, vividly brought to life by Greenside's humor and affection for his community.
(Not Quite) Mastering the Art of French Living  is available at Amazon.