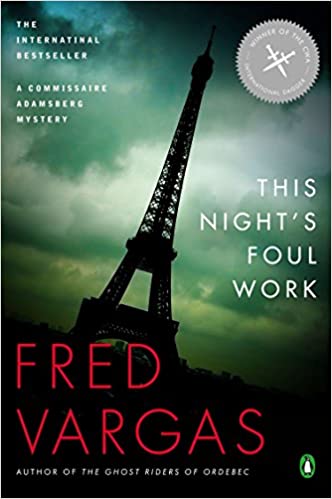 One of the most popular writers in France today is Fred Vargas, author of over a dozen policiers (crime novels.) Vargas is unusual both for her background and for the style of her novels, which depart from the usual formulas and clichés of crime fiction. They are fun reads and I just love them.
Not only are Vargas' books a hit in France, but several have won the Gold Dagger Award, given annually to the world's top crime novel. In fact, Vargas (who is a historian in real life named Frédérique Audoin-Rouzeau) is the first author to have won this award for three successive novels! Nearly all have been translated into English.
What makes her novels unusual? They are extremely well-written and they avoid the formulas common to the genre. Her most famous character, Commissaire Jean-Baptiste Adamsberg, is the antithesis of the classic hard-boiled detective. He is small, soft-spoken, and eschews normal investigative methods. In fact, he is completely incapable of thinking logically (much to the frustration of his team.)
Instead, Adamsberg relies on a remarkable intuition that even he doesn't understand, piecing together minor and seemingly unrelated details to solve murders. It is this ability that has taken him from a small town in the Pyrenees to one of the top police posts in Paris.
If you are looking for a fun read with some French flair, check out one of the excellent novels by Fred Vargas.
Read all about it in My French Life!