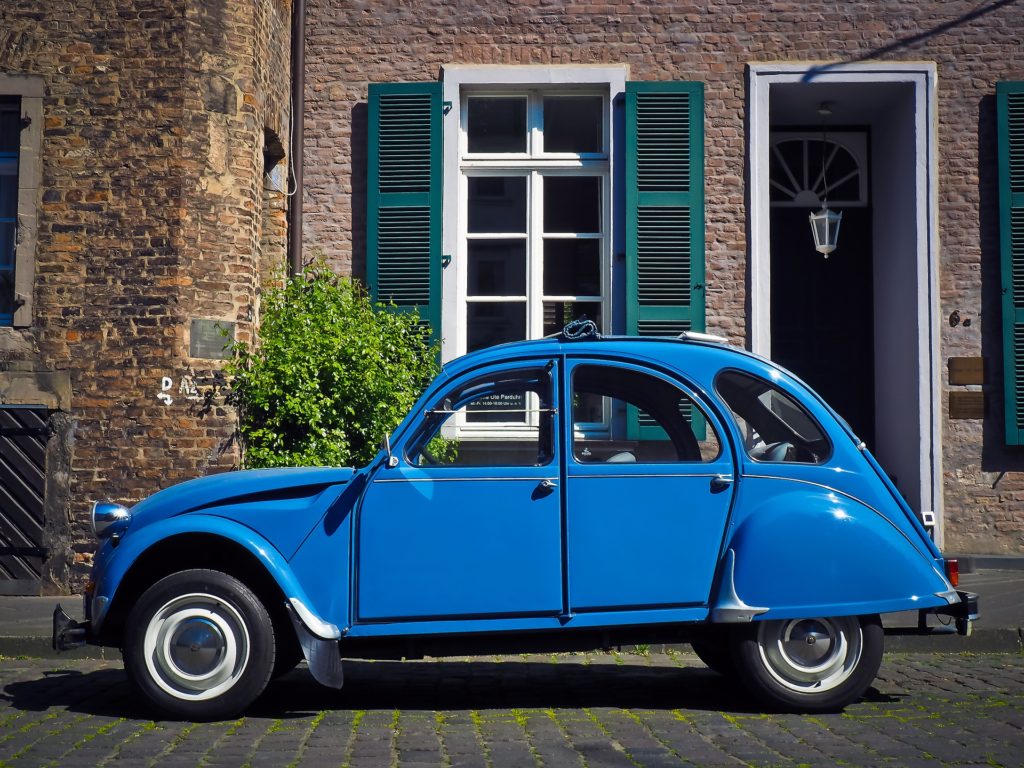 The Wednesday morning market in St.-Rémy is one of the best in Provence. And it is very popular, which makes parking a challenge. There are a few spots available in the pay lots and on the street, but they tend to fill up early. So most people have to park far from the market.
This is fine on the way in, but trudging back to your car with everything you bought at the market can be a pain. Isn't there a better way?
Happily, the answer is yes, and most people don't know about it.  And it's free!  It's a series of parking lots that you wend your way through and you can find parking even on busy market days.
The series of lots is called Parking de la Libération. It's on Avenue de la Libération, just off Boulevard Mirabeau. But it is not well marked and can be hard to find, even with a GPS.  Here's how to find it.
If you are coming from out of town, you will probably find yourself on the D99 at some point. This is the East-West road between Cavaillon and Tarascon. Get off the D99 onto the D99A on the East side of town (there are two such intersections.) Go 1.5km, until just BEFORE you dead end onto Boulevard Mirabeau. On your left will be something that looks kind of like extra space between buildings but is actually a driveway. Here's what it looks like.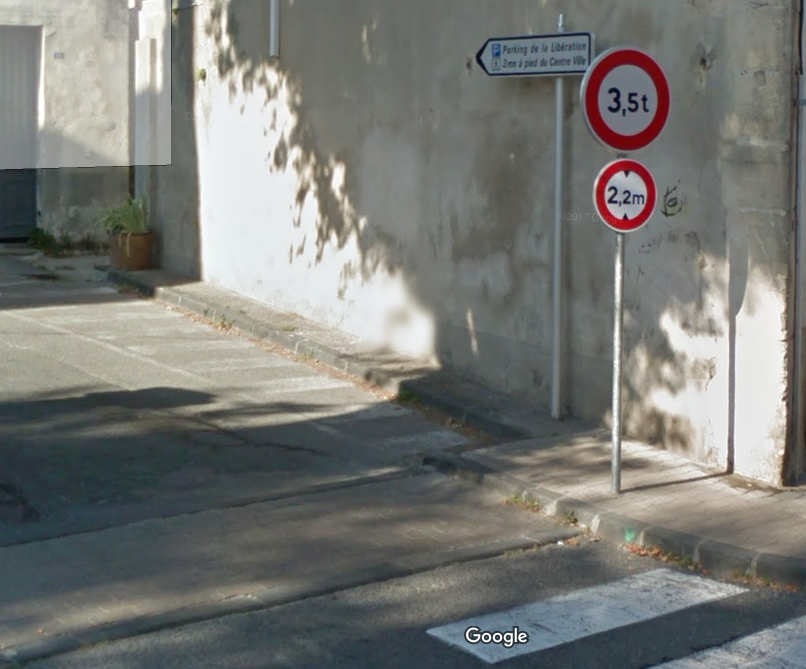 Alternatively, if you are coming from St.-Rémy itself, you will probably be on the ring road that circles the downtown. It changes names several times and at one point becomes Boulevard Mirabeau. When you get there, stay in the right lane and take the exit towards Cavaillon.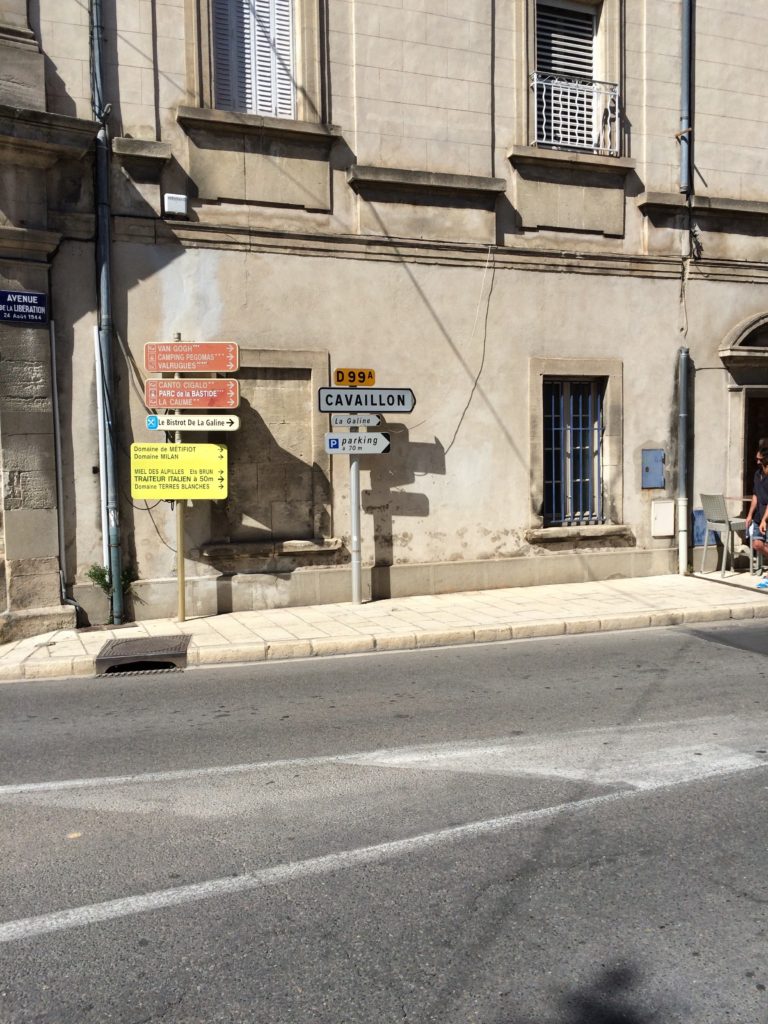 After 70 meters, at the crosswalk, the parking lot entry will be on your right. Go slowly or you will miss it! Here's what it looks like.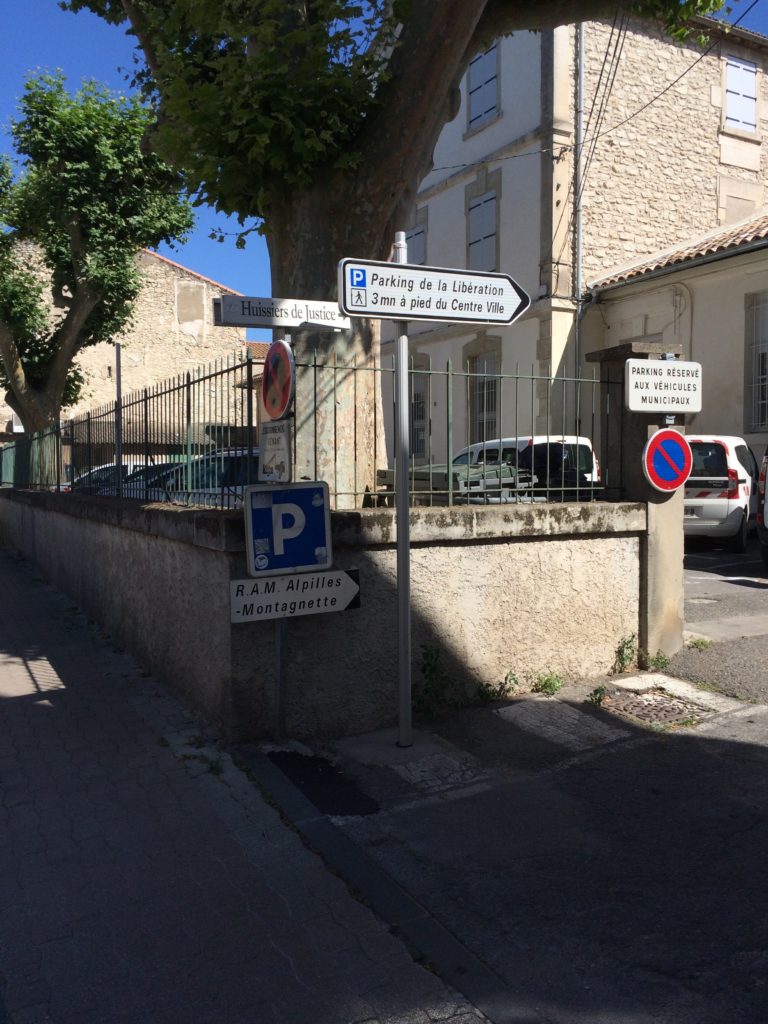 Turn right and go slowly. You'll end up in a small parking lot that is always full. Don't worry, go to the far end of the lot and follow the "Sortie" sign.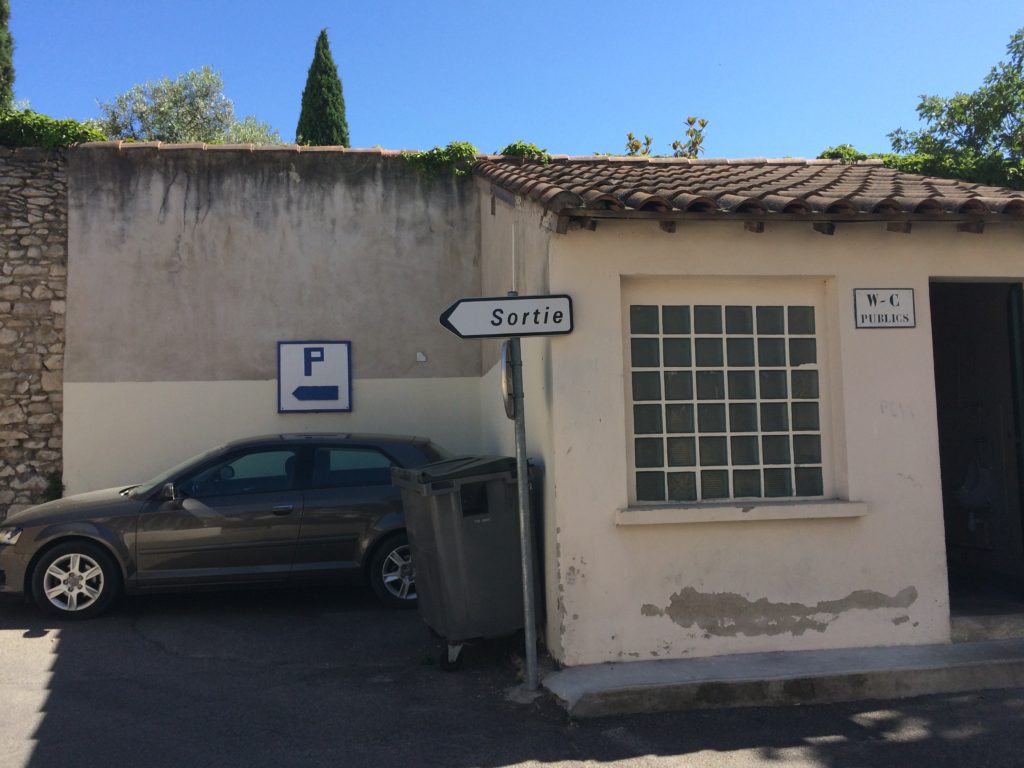 Now you will be in a larger parking lot that is also probably full. Drive out the exit on the far side (that is, to the right as you first enter the parking lot.) As you drive through the parking lot, keep your eye out for this sign on your right – it's the walking path into town.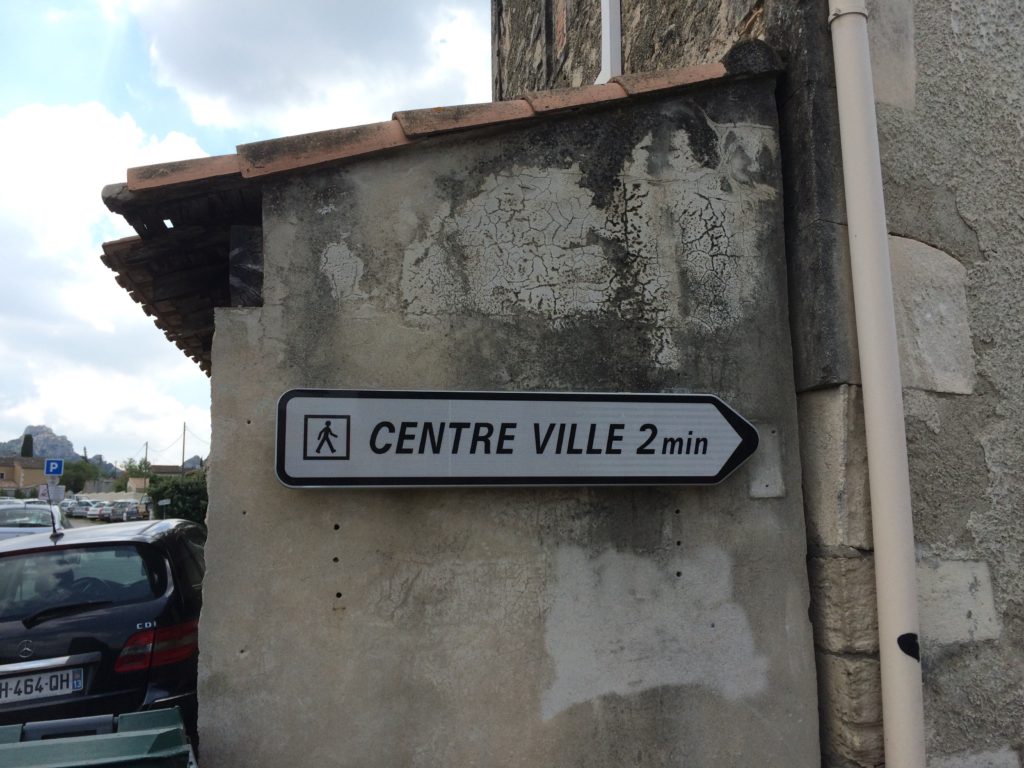 As you exit this second parking lot, going up a little ramp, you will enter a third parking lot that looks like the second one. On market days it is usually full. Never fear! Keep going, out the far side of this lot and up another ramp.
Now you've hit the big lot, with lots of dirt and grass and plenty of parking. I've seen it get crowded but never full. You will almost certainly be able to park here.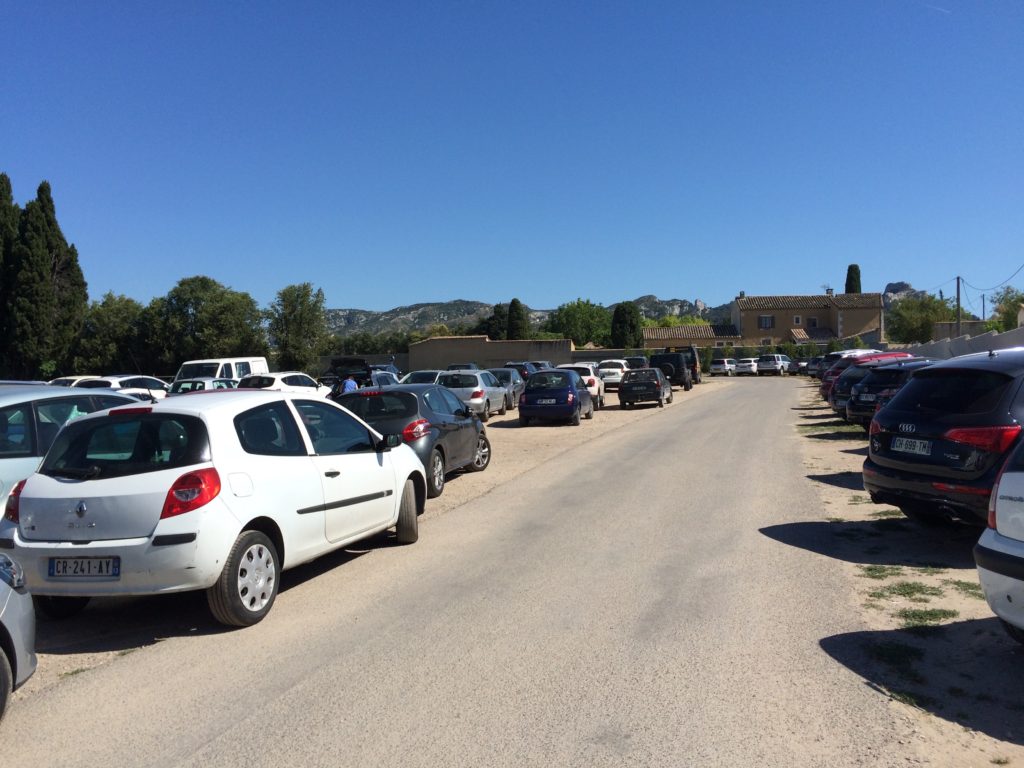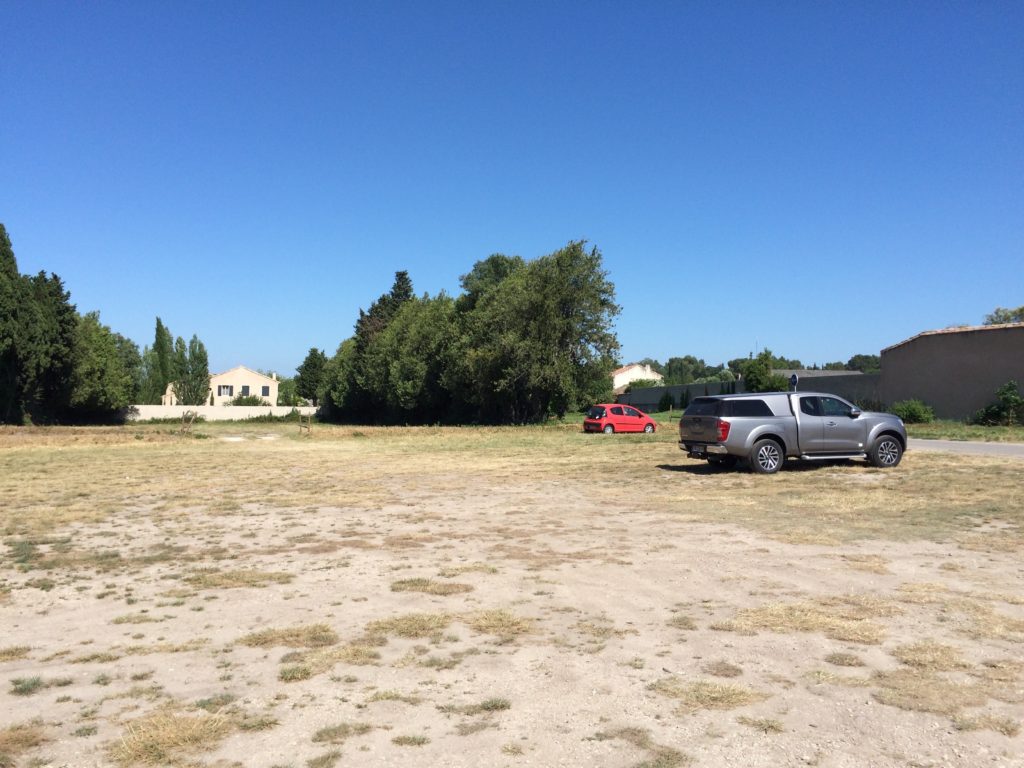 Now go back to the walking path into town and enjoy the market. But be sure to note the end of the walking path so you can find it on the way back. The path is on Rue Marius Jouveau and here's what it looks like from town.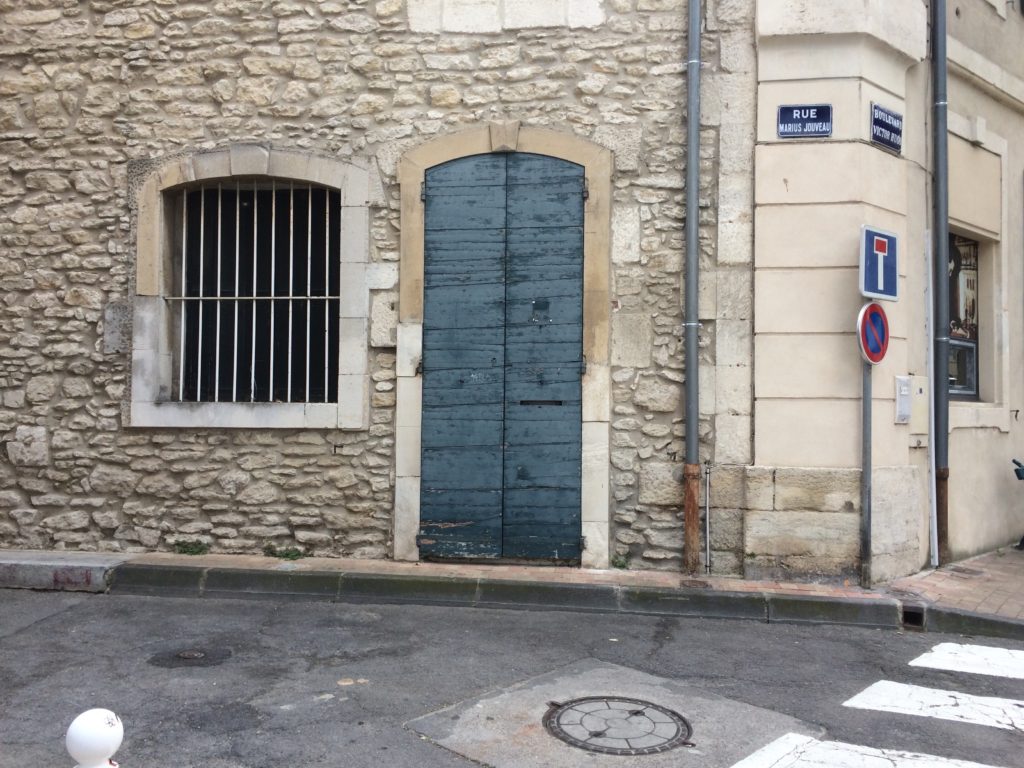 When you go back to your car, don't try to exit the way you entered, as this is a "one way" parking lot. Instead, continue on the dirt road in the parking lot to the far side and go out that way.
When you exit, you can go right (towards Maussane), left (back to town) or straight (other directions). If you go left, be aware that this is a narrow road with two-way traffic and periodically one car will need to stop in a wide spot to let another pass.
Enjoy St.-Rémy!