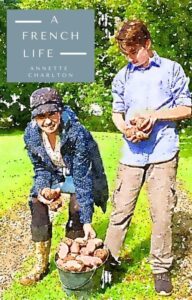 I'd like to introduce you to my friend Annette Charlton, part-time Frenchwoman and the author of a delightful new book, A French Life.
Some years ago, Annette and her husband bought a house in a small village in Brittany. This, you might think, is not particularly unusual. But they bought the house on their first-ever trip to France. And they live in Australia. All right, you think, this is not your run-of-the-mill couple.
Annette is the publisher of A French Collection, where she writes about all things French. And she occasionally writes funny stories about her life in France. She has now collected these blog posts into a slim volume that I very much enjoyed reading.
Annette begins with a straightforward question—how do you buy a house on your first trip to a country? While others might choose a different path, preferring to visit a few times first, the method she lays out will profit anyone thinking of buying a home abroad.
Then Annette starts telling funny stories about the life that she, her husband, and their three kids live in France. She describes an unusual French specialty, chocolate sausage. She tells how she once accidentally invited an elderly priest for a visit, then had to entertain him when neither spoke the other's language. And she asks the vital question, what is the proper French etiquette when someone's hair catches on fire?
Whether you buy this book, read the stories on her blog, or just dip into A French Collection from time to time, I guarantee you'll enjoy getting to know Annette and her family.
You can purchase A French Life here.