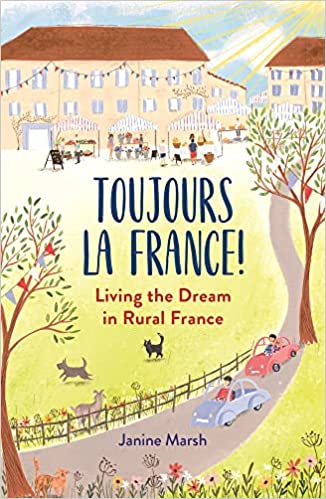 Have you ever dreamed of chucking it all, leaving the big city behind, and moving to a charming little village in France? That's exactly what Janine Marsh and her husband Mark have done, but the path they took was anything but straightforward.
One day some years ago, while on a booze-buying trip from London, they somehow bought an old wreck of a house in France's Seven Valleys region. It's a hilarious story, and Janine tells it brilliantly in her book My Good Life in France. Over the years, she and Mark have fixed up the house, adopted a shocking number of animals (including 72 chickens at last count), and settled into their village in "middle-of-nowhere France."
Janine continued their story in My Four Seasons in France and now she's back with more heartwarming tales in her latest terrific book, the soon-to-be-published Toujours la France!
If you'd like to know what life is really like in a rural French village, this is the book for you. There's not a lot of entertainment, unless you count the snail races, but there is a strong sense of community, with neighbors always willing to lend a hand to one other. And there are, of course, endless cups of coffee to share the latest gossip.
The book is full of funny stories, like the dinner party where a neighbor tries to get Janine and Mark to taste his special holiday rum. Another neighbor warns them off. "For heaven's sake don't drink it," she says. "You will miss Christmas if you do and most likely have to go to the doctor." Mark foolishly takes the tiniest of sips and is rendered mute, his mouth so numb he can't taste his food.
Janine and Mark are often a source of amusement for the village, as on the bitterly cold day when their water stopped running. They determined that an uninsulated pipe in the roof had frozen, so Mark got up on a ladder and removed a few tiles, while Janine plugged in a hair dryer so he could heat up the frozen section. One villager after another came by to see what was happening, and soon the whole village was abuzz about les anglais "who are blow drying their house."
The book is packed with fun facts about France, like the reason why people clink their glasses before drinking (it has to do with fear of poisoning back in medieval times.) And that it is considered unlucky to have a dinner with 13 people—if you do, the waiter might put an egg on the table to represent a 14th. And that France invented the online sex chat!
As the book ends, Janine reflects on how she and Mark have become perhaps not natives, but awfully darned close. And how lucky they are to have settled in the part of France "where people have sunshine in their hearts."
Highly recommended.