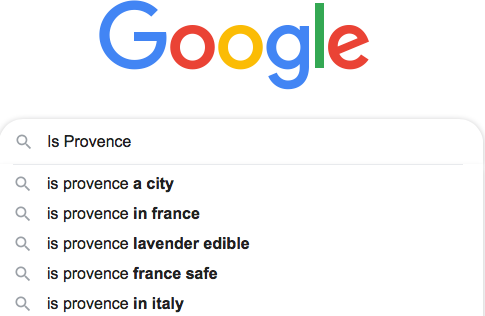 Google knows a lot about us, A LOT. We ask it billions of questions and it keeps track of every one of them, constantly tallying what we really want to know. For example, a few of the top questions that Americans asked last year were, "Where is my refund?" (tax day), "Can dogs eat apples?" (yes), and "Is Europe a country?" (time to go back to school!)
Google uses its vast database to aid us when we pose a question, using auto-fill to complete what it thinks we are going to ask. So when we type "Why is", Google might complete our question with "the sky blue?"—another of last year's most popular queries.
This means we can use auto-fill to find out what people really think about a subject. As an American who lives part-time in Provence, I was curious what my fellow citizens ask about this magnificent corner of the world.
Find out what I learned at Perfectly Provence!