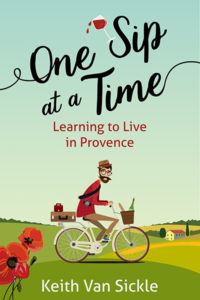 Hello!
One Sip at a Time: Learning to Live in Provence has been out for six months and has been gratifyingly well received.  Thanks to everyone who has read it and an extra-special thanks to those of you who have written a review.  I really appreciate it!
I'm planning to write a second book, continuing the story of the adventures Val and I have been enjoying in France.  Before I do, I would love to get your thoughts.  I have a few questions and would be very grateful if you would let me know what you think.
What did you enjoy about One Sip at a Time?
What would you have liked to be different in the book?
What did you expect but not find in the book?
What would you like to see in a second book about our life in France? How would you like it to be different from the first book (if at all)?
Please share your thoughts in the comments section below.  Or you can email me directly at [email protected].
Thank you!
Keith