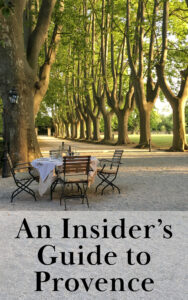 I am thrilled that my new book has just been published! It's a guide to all the "insider secrets" that Val and I have discovered during our years of living in Provence.
An Insider's Guide to Provence has our favorite restaurants, wineries, outdoor markets, picnic spots, hiking and biking trails, you name it. There is dining advice for the gluten-intolerant, vegans, and vegetarians, and special sections on Roman Provence and Jewish Provence. And with hundreds of links to maps and websites, it is perfect for the on-the-go traveler.
Here's what others have to say…
"A must-have for every visitor looking for local advice"–Carolyne Kauser-Abbott, Perfectly Provence 
"A super add on to any general guidebook of the area"–Janine Marsh, The Good Life France.
"You will not be disappointed with this modern guidebook—it is a bottomless treasure!"–Judy MacMahon, MyFrenchLife 
"If you're looking for an expert guide to show you the ins and outs of beautiful Provence, look no further"–Tuula Rampont, Belle Provence Travels
"I'll be using this guide every time I go back to France"–Janice Chung, France Travel Tips
"A must-read for anyone planning a trip to Provence"–Annette Charlton, A French Collection
An Insider's Guide to Provence is the perfect gift for the Provence lover in your life, and is available from Amazon as a paperback or e-book.
I hope you enjoy it!