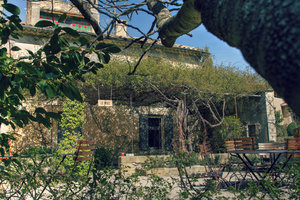 It's an oasis of serenity in the heart of Provence. The Auberge la Fenière lies at the foot of a forest-covered hillside, just beyond the charming village of Lourmarin. It's a hotel and restaurant that have been welcoming guests for decades, with beautiful old buildings made of golden stone. Next to them is a broad, inviting lawn bordered by olive and cherry trees and a large herb garden. You can feel yourself relax the moment you walk in.
The main attraction of the auberge is undoubtedly its restaurant, the proud holder of a Michelin star since 1995. It draws food lovers from all over the world for its refined and creative cuisine. And, remarkably, there's not a speck of gluten to be found anywhere, even in its many homemade breads.
Why no gluten? Let's find out—it's a fascinating story.
Read all about it in France Today!